Autumn 2021 October-December
Volume 2, Issue 2
The
Destination Stewardship Report
seeks to provide practical information and insights useful to anyone whose work or interests involve improving destination stewardship in a post-pandemic world. Its success will depend on your interest, feedback, and content contributions. Join us, and help each other.
Please
subscribe
HERE
if you have not done so already. For more information and participation,
contact us
.
—Jonathan Tourtellot, Editor
Resurrected Matera, Italy Faces Overtourism
Inviting Hollywood into your home can backfire badly. Often, a roaring success on the screen, as with James Bond (played by Daniel Craig, left), may cause instant, irreversible collateral damage.
Arild Molstad
explores the too-much, too-fast story of Italy's ancient town of Matera.
Once-Destitute Matera Grapples with Modernity, UNESCO, and James Bond
Until three years ago few but Italians had heard about this little town at the southern end of Italy's scenic Apennines' mountain range. . . . READ MORE →
Achieving Collaboration in Västerbotten – A Swedish Tale
Once the Västerbotten regional tourism authority had developed its sustainable tourism initiative, it then faced the hurdle of how to get stakeholders on board. Annika Sandstrom, Region Tourism Chief, explains how they not only overcame this challenge, but also encouraged other destinations in the county to commit to better destination stewardship.
Västerbotten Brings Together Stakeholders to Highlight Nature and Culture
The county of Västerbotten, in Northern Sweden, extends from the Gulf of Bothnia west to the Norwegian border and comprises one eighth of Sweden's total land area. The sprawling county, roughly the size of Denmark, offers "grand mountains, deep forests, mighty rivers, and … sea breezes," according to Visit Sweden. It has around 250,000 … READ MORE →
Two From India: Resilience and Governance
Contrasting Tourism Landscapes in Karnataka
~ ~ ~
The pandemic exposed the dangers of 'tourism monocultures' – dependence on one product only – versus a more holistic approach to tourism fare. Gayathri Hegde has been researching the differing tourism experiences of Dandeli and Joida, neighboring towns in Karnataka, southwestern India.
River Rafting Alone Does Not a Destination Make
The town of Dandeli, in the serene, verdant green forests of Western Ghats in northern Karnataka, has become synonymous with 'adventure tourism' in the region, popularized as the river-rafting destination of Southern India. .… READ MORE →
A Himalayan Village Takes Charge of Its Future
~ ~ ~
After witnessing unprecedented environmental damage, and despite pressure from tourism investors, the Indian village of Sharchi put regulations in place to limit unbridled growth in its attractive Himalayan valley. Aditi Chanchani and Sandeeep Minhas detail how the valley's village councils are coming together to protect the region's nature, culture, and its very future.
Strengthening Tourism Governance: First Step to Sustainability
In the northern state of Himachal Pradesh in the Kullu District, the Tirthan and Sainj valleys of the Himalayas adjoin the Great Himalayan National Park (GHNP). While this area has long been … READ MORE →
Vanuatu Tourism Gets a Reboot
The pandemic has caused massive disruption to the tourism industry around the world. But it has also created an opportunity for destinations to reboot the sector to move forward in a more thoughtful and sustainable way. Here, Geoff Hyde shares how Vanuatu is doing just that.
Living its Ni-Vanuatu Values:
Vanuatu Plans for Resilience, Agritourism, and Cruise Reform
"I rely on volcano tours for my livelihood but I also want to protect my family and community from getting sick from Covid," said a local guide at a recent tourism workshop in Ambrym, Vanuatu. Indeed, Vanuatu's Department of Tourism (DoT), in conjunction with public health officials, has been conducting workshops around the country … READ MORE →
Two Winners from the Top 100
Every year, Green Destinations organizes the Top 100 Destination Sustainability Stories competition, which invites submissions from around the world – a vetted collection of stories spotlighting local and regional destinations that are making progress toward sustainable management of tourism and its impacts. From the 100 winners announced in October 2021, we've selected two stories from Tunisia and Germany that bring to light the important role that communities can play in destination stewardship and how community collaboration can provide inspiring examples of resilience.
Rural Tunisians Join to Initiate Restorative Tourism
~ ~ ~
Top 100 submission by Mohamed Hedi Kallali, Executive Director of The Authentic Tourism Federation Destination Dahar (FTADD)
In Dahar, Tunisia, Communities Collaborate to Revitalise a Dying Region
Tourism in Tunisia is usually concentrated on the coasts and Northern regions and is generally characterized as mass tourism. But not in the mountainous Dahar region of southeastern Tunisia— one of the most remote and untouched regions of the country, as well as one of the least developed and populated. … READ MORE →
Bringing Bad Grund Back to Life
Top 100 submission by by Nikolai Simon-Hallensleben, Project Mgr., Innenentwicklung der Bergstadt Bad Grund (Harz)
Community Collaboration in Bad Grund, Germany, Revives the Destination
Over the past few decades Bad Grund (Harz), a remote destination in the rugged Harz highlands of Lower Saxony, Germany, has been suffering from decreasing population levels. Officially recognised as a spa town since 1855, it lies in an open valley surrounded by deciduous and coniferous forests. The local economy had historically relied on the mining industry and on spa tourism, … READ MORE →
Sign the Glasgow Declaration!
The Glasgow Declaration on Climate Action in Tourism is a global initiative launching on 4 November at COP26 in Glasgow, Scotland. The Glasgow Declaration aims to act as a catalyst for accelerating climate action in tourism. Organizations signing the Declaration commit to cutting tourism emissions by at least 50% over the next decade and reach net zero . . .
READ MORE
→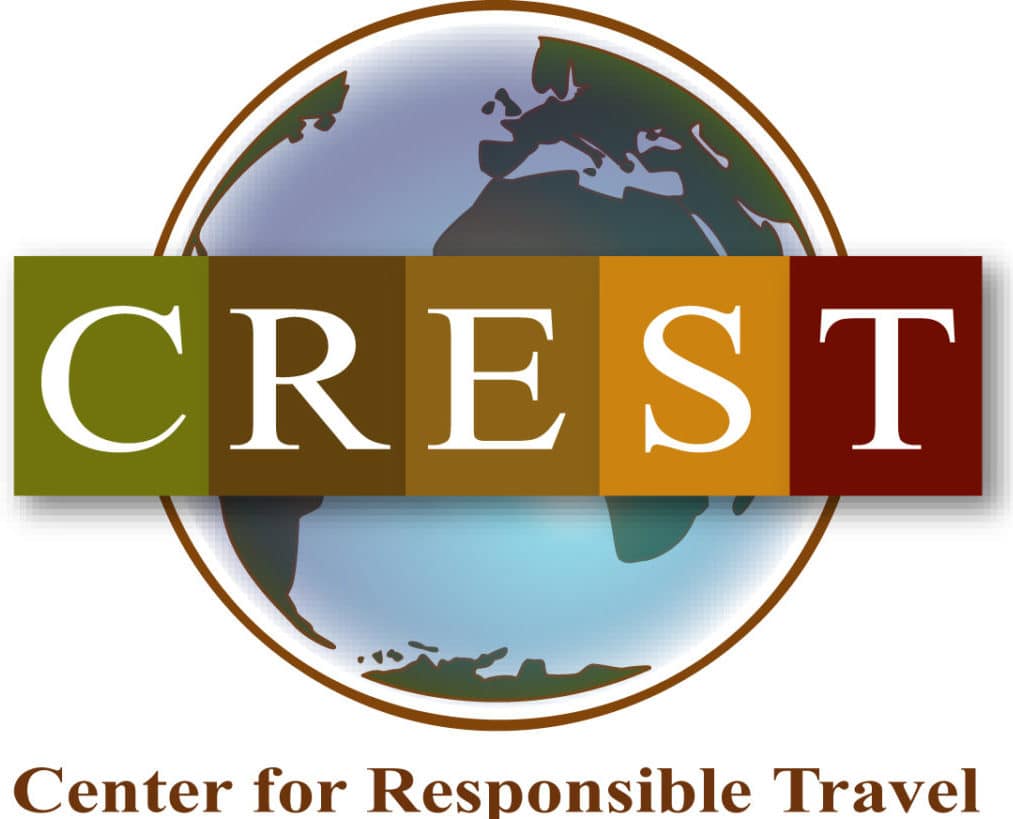 Climate Webinar Forum
On September 28th and 29th, CREST hosted its fifth annual event, this year in partnership with Tourism Declares a Climate Emergency and on the topic of "Tourism in a Climate Crisis: Taking Practical Action."
This
virtual event
focused on helping key tourism sectors bridge the disconnect between the goals they are warned must be met when it comes to mitigating the climate crisis, and the action steps they can take to do so. The event aimed to help participants take positive directional action, no matter where they were in their climate journeys. You can view the Day 1 recording, including presentations from
Elizabeth Wathuti and Jeremy Smith, and an Inspiration Panel of climate leaders,
here
; and the Day 2 recording, including a plenary session from Susanne Etti on measurement,
here.
The Future of Tourism Coalition has opened its new "Signatory Community" forum. Access is limited to designated employees and volunteers of the 650 or so organizations, businesses, and governments that have so far signed on to the Coalition's 13 Guiding Principles. … LEARN MORE →
GSTC Destination Management Workshop 1: Measuring Carbon Emissions - November 3 (10:00 AM - 10:50 AM PST). Innovation Norway's "CO2rism" is a tool for calculating the CO

2

emissions caused by transport of tourists to and within Norway.

GSTC Destination Management Workshop 2: Engagement with the Private Sector - November 3 (11:00 AM - 12:30 AM PST). As per Criterion A4 of the GSTC Destination Criteria, case studies from destinations around the world will help participants learn how a DMO can inform tourism-related enterprises about sustainability issues and support them in making operations more sustainable.

GSTC Destination Management Workshop 3: Natural Areas and Visitor Management - November 4, 2021 (10:00 AM - 1:00 PM PST). Case studies from North America, Europe, and South America, will show participants how to minimize negative environmental impacts in natural areas while providing business opportunities and an enjoyable visitor experience.
Launch of the Glasgow Declaration
(see story above)
at the COP summit November 4 (10:00 – 11:45 GMT). Watch the livestream - details here. Online event "Catalysing A Decade of Climate Action in Global Travel and Tourism" (14:00 – 16:00 GMT ) – officially part of the COP, will explore the practical actions and enablers needed to achieve Net Zero in tourism. Register at: https://bit.ly/3GiobD7

Sustainable Destination Training Nov. 3 and 16. Mountain IDEAL/GSTC. Virtual. Practical insights and effective steps for building a destination stewardship framework based on international best practices, especially for resort areas. Fee; one free session.

How can tourism destinations face the climate emergency? Nov 16, 2021. Virtual. (13:00 CET). Panel discussion among the hosting destinations of Global Green Destinations Days 2021: Athens, Niseko Town, and Slovenia, which have actively addressed climate issues in their destinations through their sustainable tourism strategies.

Crisis Response and Recovery: Nature-Based Tourism, Biodiversity, and Livelihoods. Virtual symposium (CREST, IUCN, WCPA, TAPAS Group, WWF, and ASU). November 17 for the Americas, November 17/18 for those elsewhere. Info and promo: https://docs.google.com/document/d/1F5I60vVkg4RGQFkznwlraq9IIxYRQU3PSuVcOUeEahA/edi
Tourism Innovation Summit November 11. Future of Tourism Coalition: Our session, discussing how destinations must adapt and innovate to "Transition to 2030", will be guided by the Coalition's principles and the pathways of the Glasgow Declaration. If you are planning to attend but haven't yet booked, please use this 50% discount code on Silver and Gold Passes: 3D63J
Please contact us to submit your notices.
Bookshelf
Note: Quotes are publisher blurbs.
Fennell, D. A. (2021) Routledge Handbook of Ecotourism. Routledge. "Presents a timely, broad-ranging, and provocative overview of the essential nature of ecotourism. The chapters will … provide challenging and divergent observations that will thrust ecotourism into new areas of research, policy, and practice."
Duxbury, N. (2021) Creative Tourism: Activating Cultural Resources and Engaging Creative Travellers. CABI Publishing. "A synthesis of current research and international best practice in the emerging field of creative tourism. A vital resource for tourism agencies, practitioners, planners and policymakers interested in developing creative tourism programmes and activities, this book will also be of interest to cultural and creative tourism researchers, students, and teachers of tourism and culture-based development."
Perez, P. (2021) The Tourism Area Life Cycle: Its Application to the Costa del Sol. Common Ground Research Networks. "Explores the impact of tourism on the aquatic resources of the Mediterranean tourist destination of the Spanish Costa del Sol. In doing so, this study applies "Tourism Area Life Cycle" theory [whereby] the tourist destination organically is born and evolves through life stages, analogous to a living organism, depending upon the scale of its sociopolitical, economic and environmental circumstances."
Lusby, C. (2021) Destination Unknown: Sustainable Travel and Ethical Tourism. Common Ground Research Networks. "Discusses international tourism and the ways in which it brings us together. Contributions from expert authors around the world highlight both current issues in tourism, as well as ways it can be developed more ethically and equitably…. Creating spaces for encounters, protecting natural resources, volunteering ethically, traveling to discover one's ethnic roots, vernacular design, cultural tourism and community involvement are all part of this meaningful discourse."
Classic:
Kunstler, J. H. (1994) Geography of Nowhere:
The Rise and Decline of America's Man Made Landscape.
Simon & Schuster. "Tallies up the huge economic, social, and spiritual costs that America is paying for its car-crazed lifestyle. It is also a wake-up call for citizens to reinvent the places where we live and work, to build communities that are once again worthy of our affection…. 'The future will require us to build better places,' Kunstler says, 'or the future will belong to other people in other societies.'"
➢ DSC's
Destination Monitor
and
Travindy
offer continuing selections of news stories.
~~~
Submissions Requested
The Destination Stewardship Report relies entirely on submitted articles and notices, not to mention corrections and suggestions. All submissions must:
• pertain to some aspect of destination stewardship,
• be shorter than 1,000 words, and
• avoid self-promotion.
Photos welcome. What story can you tell that would help others?
Please
contact us
with your ideas. Your next issue is planned for January 2022.
Volunteers needed!

• Tourism Cares

https://www.tourismcares.org/opportunities

can always use some help.

• The Destination Stewardship Center seeks an experienced managing editor for this Report, as well as a tech-savvy gap-year graduate or apprentice (WordPress, MailChimp, and Google Suite) –
contact us.
The Destination Stewardship Report is an e-quarterly collaboration between the Destination Stewardship Center and the Global Sustainable Tourism Council, and in time maybe others. You can subscribe HERE . To contribute a story, contact us. —Jonathan Tourtellot, Editor