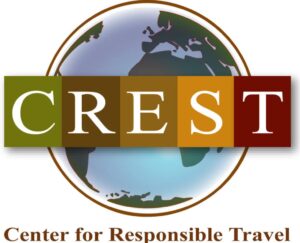 This participatory e-quarterly, the Destination Stewardship Report, is a collaboration among (left to right) the Global Sustainable Tourism Council (GSTC), the Destination Stewardship Center, and CREST  – and in time, maybe others.
Our goal is to provide information and insights useful to anyone whose work or interests involve destination stewardship. It's an all-volunteer experiment, so its success will depend on your interest, feedback, and content contributions. Join us, and help each other.     Most DS Report feature stories have a long shelf life – still relevant long after publication. The dated links below show you what each quarterly looks like in your in-box. That email version holds the links to the individual stories. We are gradually adding them on this page as well. Every emailed issue also holds text blocks on Upcoming Events, Announcements and Webinars, Publications, and selections from the Destination Monitor.
You can subscribe for free here or read each issue on our webpages.
The Spring 2022 issue has now mailed. Feature stories are:

Two from Slovenia:
Two More Winners From the Top 100 Rely on Indigenous Tradition:
See the Spring 2022 link  for the complete issue.
---
See the complete Issue here: Winter 2021. Feature stories are:
See the complete Issue here: Autumn 2021. Feature stories are:
Two From India:
Two Winners From the Top 100:
See the complete Issue here: Summer 2021. Feature stories are:
Palau: A Conservation Culture
Localizing a Vermont Tour
Doing It Better: Pennsylvania Wilds, USA

Chelenko Opts for Sustainability

Human Encounters
Resources for Tourism Recovery
Webinar reports:

Overtourism's Lessons for Tomorrow
Metrics and Supply Chains
See the complete Issue here: Spring 2021. Feature stories are:
The Nisga'a of B.C. Offer an Indigenous Tourism Model
Saving Cultural Heritage: The Singapore Hawkers Case
Doing It Better: Sedona Arizona
Once Overrun, Dubrovnik Plans for Sustainability
Opinion: A Chance to Tame Cruise Tourism
Japan's Journey Toward Sustainability
New App Can Help Destinations
Webinar reports:

Measuring Destination Happiness
Future of Tourism Coalition's "Reset Tourism" Webinar Series – Destination Stewardship
See the complete Issue here: Winter 2021. Report includes these featured stories:
Riviera Maya's Queen of Green by Dr. Jonathon Day
Even in Affluent Norway, Innkeepers Have Struggled by Arild Molstad
Namibia's K-H conservancy: Our 5th "Doing it Better" profile by Jonathan Tourtellot
Overtourism and Undertourism in Protected Areas by Dr. Anna Spenceley
A Taiwanese Island Boosts Tourist Capacity – Sustainably by Monique Chen
Neolocalism and Tourism by Dr. Christina Cavaliere
See the complete Issue here: Autumn 2020. Report includes these featured stories:
The Greening of Gritty Ulsan, South Korea by Dr. Mihee Kang and Seok Yoon
10 Ways to Reset Your Tourism Model Post-Covid by Florian Kaefer
Pandemic Tourism Brings Surprises to Serbia by Ivana Damnjanović
Columbia Gorge: Our 4th "Doing it Better" profile by Jacqueline Harper
Mallorca Tries to Tame Tourism by Daza Garcia
How Data Science Can Help Destinations by Irene Lane
See the complete Issue here: Summer 2020 – Inaugural Issue. Report includes these featured stories:
In Italy's Dolomites, a "Future Lab" Inspires DMO Innovation by Marta Mills
Engaging Gateway Communities for a U.S. National Park by Kelly Bricker
Crete Needs to Restore Its Gastronomic Heritage by Nikki Rose
A1: GSTC's criterion on destination management – its context and importance by  Randy Durband and Jonathan Tourtellot

Anna Maria Island Offers a Model for Sustainable Stewardship by David Randle
The Elaborate Process of Revising GSTC's Destination Criteria by Kelly Bricker and Richard and Jackie Denman
For more information and participation please contact us.  —Jonathan Tourtellot, Editor
Note: If you use Gmail, look for your e-mailed DS Report where Google insultingly files it: in its "Promotions" folder. Despite our efforts, other services may also trap it in a spam folder.
---
About  the Global Sustainable Tourism Council  GSTC establishes and manages global sustainable standards, known as the GSTC Criteria. There are two sets: Destination Criteria for public policy-makers and destination managers, and Industry Criteria for hotels and tour operators. The GSTC Criteria form the foundation for accreditation of certification bodies that certify hotels/accommodations, tour operators, and destinations as having sustainable policies and practices in place. GSTC does not directly certify any products or services; but it accredits those that do. The GSTC is an independent and neutral USA-registered 501(c)3 non-profit organization that represents a diverse and global membership, including national and provincial governments, NGO's, leading travel companies, hotels, tour operators, individuals and communities – all striving to achieve best practices in sustainable tourism. www.gstc.org
About the Destination Stewardship Center  The DSC is a volunteer-driven nonprofit organization dedicated to protecting the world's distinctive places by supporting wisely managed tourism and enlightened destination stewardship. We gather and provide information on how tourism can help and not harm the natural, cultural, and social quality of destinations around the world. We seek to build a global community and knowledge network for advancing this goal. Join us and learn more at www.destinationcenter.org.
About CREST The Center for Responsible Travel (CREST) is a global nonprofit organization based in Washington, DC dedicated to increasing the positive global impact of responsible tourism. CREST provides evidence-based research and analysis to governments, policymakers, tourism businesses, nonprofit organizations, and international agencies to solve the most pressing problems confronting tourism, the world's largest service industry.
CEO, Destination Stewardship Center; Editor, Destination Stewardship Report; Principal, Focus on Places LLC; founding Director, former Nat Geo Center for Sustainable Destinations